Regular price
$105.00
Sale price
$105.00
Unit price
per
Sale
Out of Stock
Free shipping on orders in the lower 48 states
Satisfaction Guaranteed
Secure Payments
View full details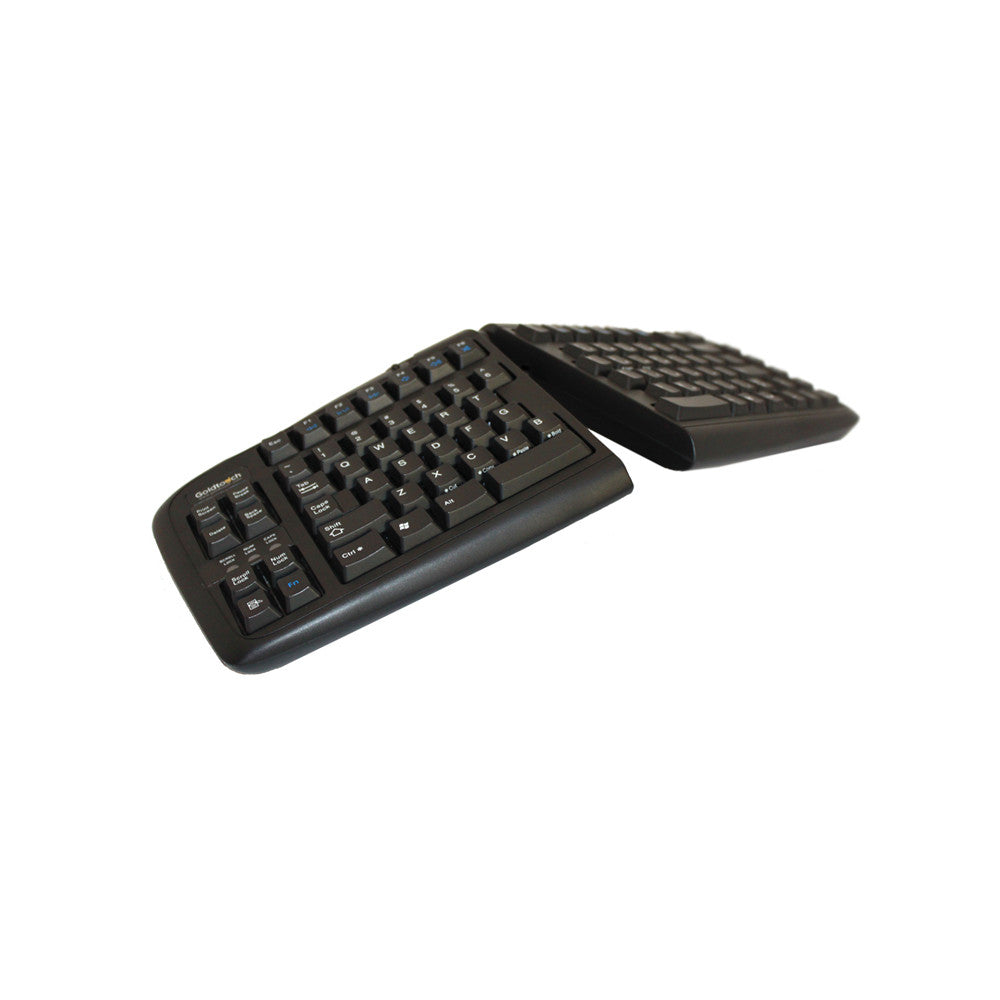 Product Description
Specifications
Dimensions
Downloads
This Second Generation Goldtouch V2 Adjustable Comfort Keyboard provides personalized comfort with the individual in mind. Quiet, tactile keys and customizable positioning give the right fit for everyone, at home or at work. Complement your unique body and typing preferences while helping to prevent RSI and Carpal Tunnel Syndrome.
Prevent carpal tunnel with the perfect fit: This keyboard adjusts from 0-30° on the horizontal plane to properly straighten your wrists and provides 0-30° of vertical tenting to help you achieve a more natural and comfortable position.
Allows for dynamic positioning: Two feet on the back of the keyboard create a negative sloping angle, positioning your wrists in a neutral or downward position rather than tilted upward.
Soft key touch, low activation force, and full key travel distance: Provides keying comfort and reduces risk of "bottoming out" when typing.
Quiet key strokes: Dome-shaped keys offer one of the quietest options, along with a much more tactile feel.
Fully PC Compatible: Includes a USB and a PS2 connector for easy use with your PC. Just plug and play.
Learn how other companies have benefited from using ergonomic keyboards.
"After having been burned by spending the money for the safe type keyboard (that was by far the most expensive mistake I'd made)… and other "ergonomic" keyboards… I decided to give this keyboard a shot. It is absolutely the best investment I made for myself to combat carpal tunnel syndrome and RSI."

Louis H., Cambridge, MA
Goldtouch V2 Adjustable Comfort Keyboard - PC Only (Includes USB and PS2 Connector) is compatible with the following operating systems:
Windows 2000
Windows XP
Windows Vista
Windows 7
Windows 8
Windows 10
USB or PS2 Port Connectivity
Travel Distance: 3.6mm, +/-.5mm
Activation Key Force: 36g-42g (average)
Disclaimers: Do Not Plug your USB Goldtouch Keyboard into the USB Keypad. Your PC will not recognize the device.
Need more data on our ergonomic keyboards? Check out this compilation of case studies from business around the world using our products.
View our full Shipping and Return Policy. This policy is applicable to all Goldtouch products. 
Width: 16.25 inches / 41.275 cm
Depth (front-to-back): 6.75 in / 17.145 cm
Height at home row: 1.25 in / 3.175 cm
Weight: 3.3 lb / 1.5 kg
Cable Length: 5 ft 11 inches / 1.8 m
Click here for keyboard: