Regular price
Sale price
$169.00
Unit price
per
Sale
Out of Stock
Free shipping on orders in the lower 48 states
Satisfaction Guaranteed
Secure Payments
View full details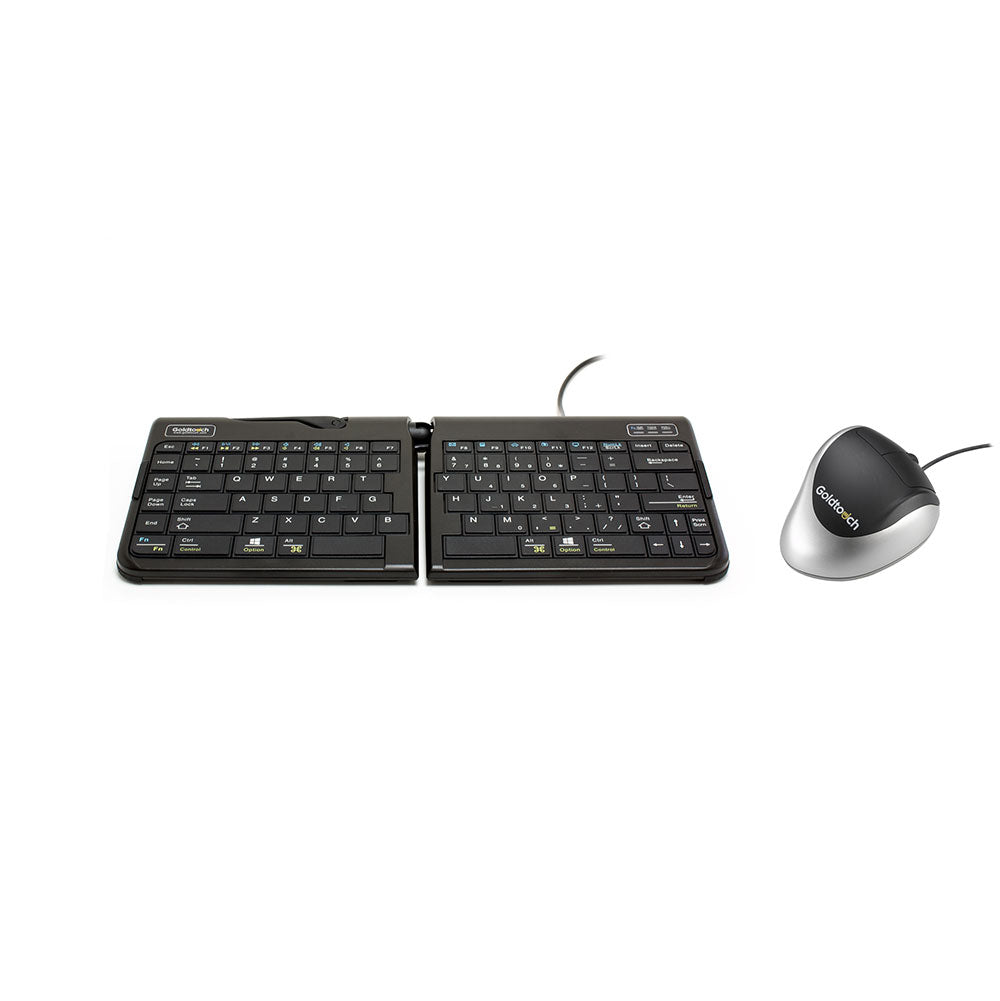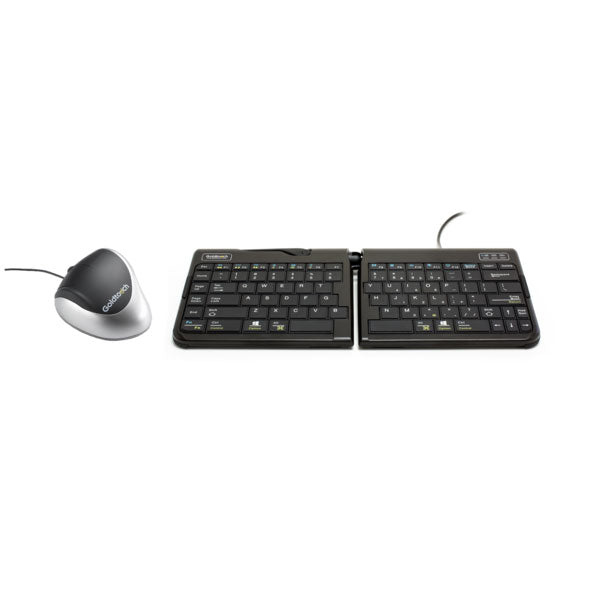 Product Description
Specifications
Dimensions
Downloads
Tackle keyboard and mouse pain without sacrificing portability, with the Go!2 Mobile Keyboard & Comfort Mouse ErgoSuite Bundle. Combining two of our favorite products, you get full-sized keys with our split keyboard and a comfortable mouse that mimics your hand's natural position. A perfect combo that's easy to travel with or use in your office for convenient desktop ergonomics.
Goldtouch Go!2 Mobile Keyboard (USB) Details:

The sleek and slim Goldtouch Go!2 Mobile Keyboard is the perfect work and travel companion for the on-the-go professional. This lightweight product features full sized keys that are fast and responsive, ensuring productivity, regardless of venue. Isn't that what a keyboard is meant to do?
Mobile comfort: Unlike other travel keyboards, which sacrifice comfort for convenience, the Goldtouch Go!2 Mobile Keyboards feature full-sized keys.
Promotes better posture: Keyboard adjusts from 0º to 30º's to put you in a more neutral typing position.
Slim and lightweight: When you're ready to go, you can fold this mobile keyboard in half and slip it right into your carry-on.
Comfort Mouse Details:
Designed to mirror your hand in a weightless environment, the unique shape of this ergonomic mouse will ensure you keep your wrist at a natural 24 degree angle to alleviate pressure on tendons and joints.
More comfort than ever before: An oversized thumb cushion will help you grip the mouse without overstretching, no matter what size your fingers are.
Helps prevent RSIs: With proper ergonomic comfort, you'll reduce the risk of developing carpal tunnel syndrome and other repetitive strain injuries.
Go! Travel Keyboard System Requirements:
The Goldtouch Go!2 Mobile Keyboard is compatible with Windows PC and Mac. Below is additional information for the operating system requirements:
Windows XP
Windows Vista
Windows 7
Windows 8
Windows 10
USB Port Connectivity
The Goldtouch Comfort Mouse:
System Requirements:
The Goldtouch Ergonomic Mouse supports Windows PC and Mac without requiring 3rd party drivers. 3 buttons support left and right click with center wheel click to activate scroll function on PC. 1 to 3 button support for Mac as supported by the OS version.
Windows XP
Windows Vista
Windows 7
Windows 8
Mac OS X 10.4 and later
View our full Shipping and Return Policy. This policy is applicable to all Goldtouch products. 
The Goldtouch Comfort Mouse:
Length: 4.5 inches / 11.43 cm
Width: 3.125 inches / 7.94 cm
Height: 2 inches (5.08 cm) at the thumb, 1 inch (2.54 cm) at the small finger
Weight: 4.7 ounces / .13 kg
Go! Travel keyboard Dimensions:
Width: 13.5 inches / 34.29 cm
Depth (front-to-back): 6 inches / 15.24 cm
Height: .9 inches / 2.29 cm
Weight: 1.1 lb / .5 kg
Activation Key Force: 38g-42g average