Regular price
Sale price
$69.00
Unit price
per
Sale
Out of Stock
Free shipping on orders in the lower 48 states
Satisfaction Guaranteed
Secure Payments
View full details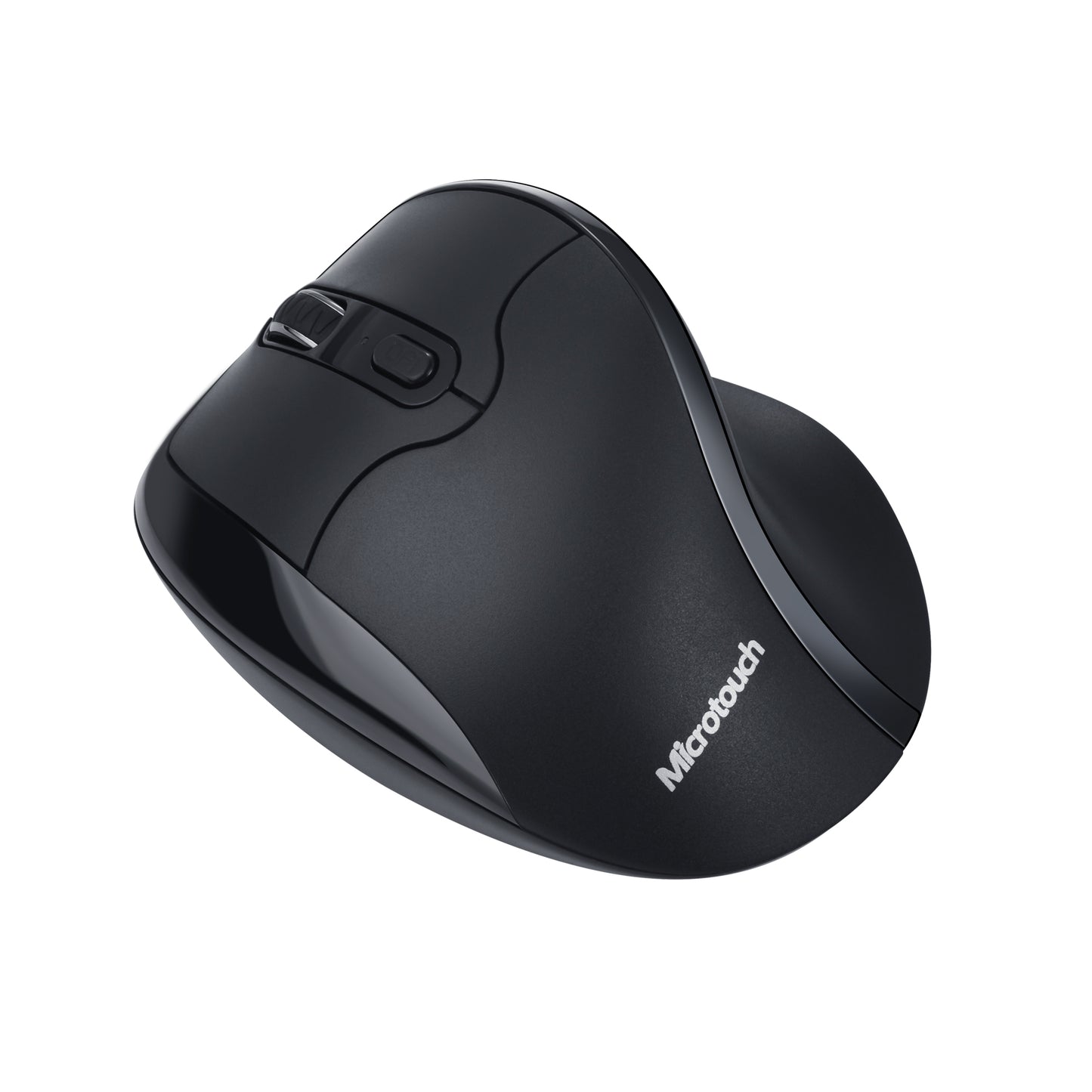 Product Description
Specifications
Dimensions
Downloads
Product Description
For an ergonomic mouse that fits your grip, choose the Black Newtral 3 Wireless Mouse. With 2.4 GHz wireless technology, pair it to your device and start working without messy wires. The customizable grip options help reduce discomfort while mousing, with a detachable, frictionless flange and gentle slope to support your hand's natural position.
Ergonomic Design: This mouse reduces wrist and forearm pronation through the concave depression on the thumb side of the mouse combined with the 33 degree slope off the horizontal from the pointer finger to the fifth finger position.
Reduces Grip Requirements: The slanted semi-fist shape design allows gravitational force on the hand to be employed to provide the majority of the control required to precisely move the mouse.
Gripping Options: With the Newtral 3 Mouse, you will have two grip options: the Precision Grip and Ergo-Grip (attachment flange). The Ergo-Grip design with detachable palm support keeps the underside of the pinky finger and palm off the surface of the desk to reduce friction.
Reduces Pressure of Your Wrist: The soft gel applied to the Ergo-Grip flange support increases the size to bear your hand weight and reduces the pressure of your wrist.
Programmable Buttons: With 6 entirely programmable buttons on the mouse, you can customize how you navigate. Driver installation is needed to program the button functions, and is only compatible with Windows systems.
Mousing shouldn't be a pain -- and it doesn't have to be, with the Newtral 3 Mouse. Find yours today!
Specifications
System Requirements:
The Newtral 3 Mouse is compatible with the following operating systems:
Windows XP
Windows 2000
Windows Vista
Windows 7
Windows 8
Windows 10
Mac OS 9+
Linux
Resolution
The Newtral 3 Wireless Mouse has an adjustable DPI sensor, and can be set to: 1000, 1200, 1600 DPI
View our full Shipping and Return Policy. This policy is applicable to all Goldtouch products. 
Dimensions
Length: 4.5 inches (11.4 cm) without palm support; 6.6 inches (16.8 cm) with palm support
Width: 3.1 inches (7.8 cm) without palm support; 4.1 inches (10.4 cm) with palm support
Height: 2.1 inches (5.3 cm)
Weight: 3.88 oz (110 g) including battery without palm support; 5.29 oz (150 g) including battery with palm support
Range: 32.8 feet (10 m)
Sizing:
Using a ruler or tape measure, measure the distance from the crease in your wrist to the tip of your ring finger. This mouse will accommodate measurements between 6.5 - 7.35" (16.5 - 18.6 cm).
Click here for Newtral 3 Wireless Mouse: